This guide was created to show you what a "Fail Pker" is and how to stop them without stooping to their level. There are two types of Pkers. Low-level or "Pures" and High-level "Mains". There are also two types of "Fail" pkers or "Prod.s". Fail pkers are basically people that have to use overpowered weapons/armour that require no skill to use in order to get kills.These people usually think they're a good pker because they do get kills. First we will start with Low-level pkers.
A low-level fail pker usually looks something like this.
Range.
Their gear usually contains the max hitting range armour for their level because all they use is a rune crossbow. A rune crossbow is very overpowered for 3 reasons. 1: It hits way too high for how fast it attacks. 2: It hits way too consistant. 3: It hits too well through high defence armours. The rune crossbow could also be switched with rune knives. Rune knives are overpowered for 1 reason only. 1: They hit way to fast to be able to hit that high. I have seen one with this setup hit a 29. o_o There is a good chance if your pking setup looks like this, you cannot pk very well.
Melee.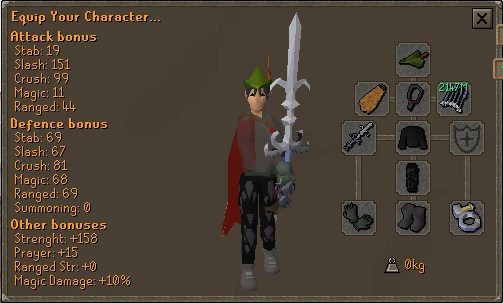 This particular setup usually contains gear that gives the maximum strength bonus for their level. This pker usually only uses an Armadyl Godsword and uses the special attack when the opposing player is at low health. An Armadyl Godsword is overpowered for 2 reasons. 1: It hits too high for the consistancy. 2: The special may not be consistant but hits way to high on a good spec. People with this setup have done 99 damage with one special. There is a good chance if your pking setup looks like this, you cannot pk.
How to Beat these Setups.
This is a very good setup for taking down those fail pkers. The whip is a very underrated weapon. It attacks fast enough and with enough consistancy not to be overpowered, but to get the job done. When facing the Range Prod. you should always make sure to eat whenever your under 50 health. Doing so will stop the fail pker from bitching that your "safing" and also keep your health high enough to not be knocked Out by the rune crossbow. When facing the Melee Prod. or "Ags prod." you should always make sure to use vengance. Doing so will sometimes double your hits with the whip and deal a great amount of damage to the other player when they use the Armadyl godsword special. When using this setup I encourage you to be creative. Mabye inculde a Knockout weapon such as a Dragon dagger. Next, the High-level pkers.
A high level fail pker usually looks something like this.
Range.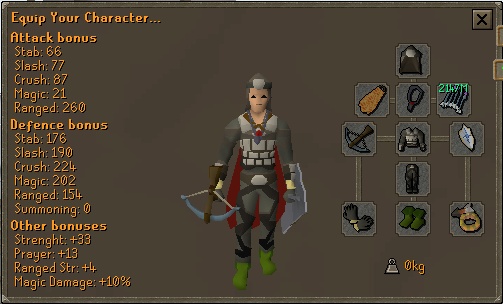 This setup is basically a mirror image of the pure setup just with added range bonus through the use of Morrigans and Barrows gloves. Theres a good chance that if you use a setup like this you cannot pk.
Melee.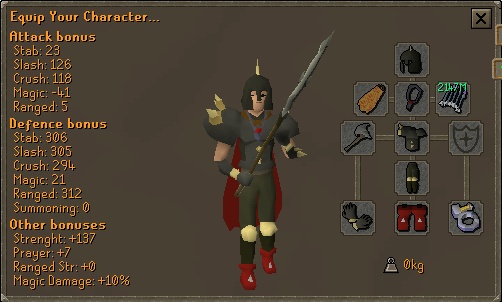 This gear consists of the ever famous Dharoks armour set. It is similar to the Low-level Melee prod. because the need for maximum strength bonus. Dharoks is overpowered for 2 reasons. 1: Even at full health or close to full health it can hit consistant 30-40's. 2: When at lower health you are able to hit upwards of 80. When testing this armour set I personally have dealt 89 damage in one hit while at 20 health!. Theres good chance if you use a setup similar to this you cannot pk.
How to Beat these setups.
This setup will be able to overtake either of the fail high-level pkers. First off, the divine spirit shield will stop a ranger from doing any damage at all. Some people think that a divine spirit shield is Prod.-ish but I beg to differ. The divine spirit shield is Royalscapes way of saying "F--- You!" to all those range prods. Next is the melee prod. This one is a bit tricky because you have to know when to eat and the capabilities of dharok at what health. There is one bang-on technique that most of the time, how most people say "good fights" a dharok pure. All you have to do is cast vengance and use your special attack at the same time. It works quite often because of how consistantly high dharoks hits. Again, I encourage you to be creative when using this setup by adding a knock out weapon or something to "spice it up". Many people use a whip instead of a Vesta longsword because of the affordability.
Well, if you made it this far, I would just like to thank you for reading my guide and hope that this will stear you in the right direction when deciding to go Player killing.
@Disclamer@ This guide is completely opionated and is not directed to anyone that may use a "fail pker" setup.
@This guide is not to be redistributed for profits.@